We are proud to announce that Manning Law, APC has been recognized as a Patriotic Employer by the Employer Support of the Guard and Reserve (ESGR) agency of the Department of Defense. Manning Law, APC is a proud employer of a member of the armed forces – Captain David Fitzgerald of the United States Marine Corps Reserve. The Patriotic Employer award is a recognition bestowed on employers of members of the armed forces for providing high-level support for employees who serve in the United States Armed Forces Guard and Reserve. See the letter from James P. Combs, State Chairman, California (Employer Support of The Guard and Reserve).
Nearly half of the U.S. Armed Forces is comprised of members serving in the National Guard and Reserve. The Department of Defense issues the Patriotic Employer award to employers who provide outstanding support for their Guard and Reserve employees.
The ESGR helps employers by informing and educating them on the Uniformed Services Employment and Reemployment Rights Act (USERRA). USERRA is the federal law that sets out the rights and responsibilities for members of the National Guard and Reserve and their civilian employers with regard to the employment, reemployment, employment benefits, and retention in employmenwhen employees have served in the uniformed services. See the congratulatory letter from James P. Combs, State Chairman, California. (Employer Support of The Guard and Reserve).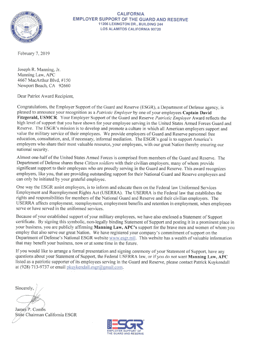 Speak with One of Our Devoted Newport Beach Personal Injury Attorneys
If you've been injured as a result of another person's wrongful or negligent behavior, you might qualify for a legal remedy. To figure out the full extent of your right to recover compensation for your injuries, you should consult a skilled Newport Beach personal injury attorney. At Manning Law, APC, we have years of experience handling various personal injury matters. We are dedicated to providing our clients with personalized legal services allow their stories to shine through to an insurance company, jury, or another party.
Call us at (800) 783-5006 to schedule an appointment to discuss your case with an experienced attorney today.